natural ingredients - essential oils - skin nourishing salts - relaxing experience
Our bath soaks are made using natural, quality ingredients: essential oils, sea salts and binders. We never include dyes, pesticides, parabens, or sulfates anywhere in our products
We want our fragrances to smell amazing and fill your spa experience with scents you'll love. We only use 100% pure essential oils in our bath soaks for full botanical aromas.
We carefully blend every ingredient together, making sure they infuse completely with no separation. Each time they're used, full spa-like fragrance is released.
Our ACDC Aromatherapy Bath Salts are infused with soothing pure essential oils, promoting more than just relaxation - they can help release tension in the body, reduce inflammation, cleanse and purify your skin. These bath soaks are blended with 100% pure essential oils, magnesium-rich Epson salts and pink Himalayan sea salt. Combining Epson salt and sea salt creates a bath filled with trace minerals, which help boost metabolism, promoting skin softening and exfoliation.
Everyone loves bath bombs! Relax and enjoy our beautifully scented essential oil based bath fizzers. They're a fizzy, fun way to create an in-home spa experience using a few simple natural ingredients - essential oils, epsom salts, soda and coconut oil. Soak your worries away using calming aromatherapy to soothe the mind, body and spirit.
BUILD YOUR OWN
BATH GIFTS!
Create a custom gift for yourself or a loved one by selecting your own set of 4 bath bombs! We'll individually pack them in our signature foiled box with a clear enclosure, ready to give. Hand crafted from essential oils and natural ingredients, the fun is in the fizz - go with a pure scent, or mix and match to your heart's desire. Use the pull downs to select Lavender, Grapefruit, Eucalyptus or Lemongrass.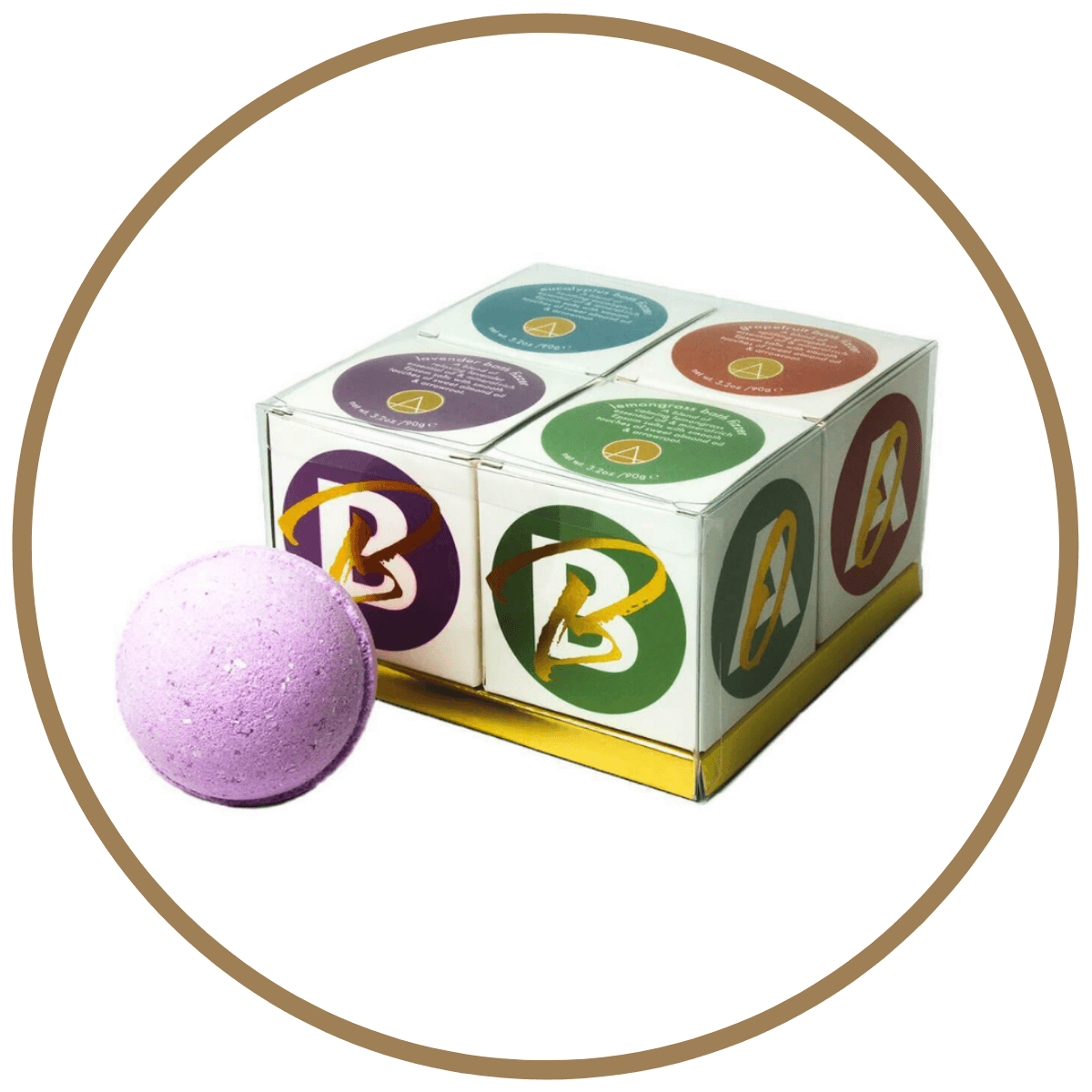 Continue the conversation and learn more about aromatherapy by joining our mailing list. We'll hook you up with product information, new introductions, interesting articles and seasonal promotions.
As the foundation of our quality promise, we say 'no thanks' to a growing list of chemicals that we don't include in our candles, home fragrances and bath products.
DYES? NO THANKS!
Why not? Aniline candle dyes are made from chemicals and because they aren't rated by the FDA, manufacturers don't have to disclose their ingredients
PARABENS? NO THANKS!
Why not? Parabens are chemical preservatives used to prolong products' shelf lives. They are easily absorbed into the body and disrupt hormone functions
SULFATES? NO THANKS!
Why not? Sulfates are chemical bonding agents that attract oil to water. They can cause skin and eye irritation and come from non-renewable resources
PESTICIDES? NO THANKS!
Why not? In farming, pesticides are used to kill insects, weeds and other 'pests'. They can contaminate soil, water, and vegetation which is taken into our food & water supply